EXPLORE THE TUBEMOGUL PLATFORM
TubeMogul's programmatic video advertising platform puts brands and agencies in control.
We know that persuading a target audience, at scale, with digital advertising is getting more and more difficult. By offering the impact and scale of television with the targeting and measurement of digital, our platform helps brands solve many of those challenges in today's digital world. At the core of TubeMogul's technology stack is our powerful and intuitive platform. The products, tools and features within the platform make programmatic video planning, buying and measurement a reality for brands and agencies of any size. The platform can be accessed from any web browser and supports multi-user login, enabling brands and their agencies to standardize their global video strategy and execution on TubeMogul.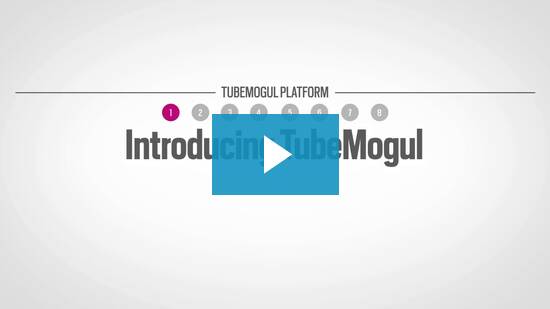 INTRODUCTION TO THE PLATFORM
See the TubeMogul platform in action. This step-by-step platform overview gives you an inside look into just how easy it is to launch a global brand campaign from one powerful platform.
Campaign Planning
TubeMogul's platform offers an integrated approach for programmatic video buying. Our advertising software allows clients to simplify their media buying process across all screens with access to video inventory on public exchanges and through private deals.
Campaign Execution
For both self-service and fully-managed clients, the TubeMogul platform is a command center designed to save time and money while delivering campaigns that exceed client objectives. With TubeMogul, launching a video campaign layered with sophisticated targeted and integrated brand measurement has never been easier. Our powerful, real-time optimization and decisioning engine helps fuel brand performance while our uncompromising approach to safety ensures your brand equity is protected.
MEDIA BUYING
With TubeMogul, buying video campaigns is simple: choose any video ad format on any device, apply targeting, set a budget, upload a video and launch.
DECISIONING & OPTIMIZATION
Each second, the TubeMogul platform evaluates 200,000 ad impressions, determines which ones would be desirable for our clients, and bids accordingly.
Campaign Measurement
TubeMogul's platform helps to eliminate some metrics-oriented inefficiencies that accompany a traditional media buying approach with a unified view of performance across campaigns. Comprehensive and granular campaign, audience and video level analytics are delivered in real-time across all inventory sources connected to your campaign and running through the platform.
Related Content
TubeMogul is the video advertising platform that puts brands and agencies in control.
Request More Info